"The First Name in Pancakes"

The Original Pancake House was founded in Portland, Oregon in 1953 by Les Highet and Erma Hueneke. Customers enjoy the benefit of their many years of experience in the culinary field, through the extensive menu of delicious authentic national and ethnic pancake recipes. The Original Pancake House is a second and third generation family business, which takes great pride in maintaining the high standards that make our food so outstanding. There are over 100 Original Pancake House restaurants from coast to coast, which have won local and national acclaim. Our recipes demand only the very finest of ingredients, such as 93 score butter, pure 36% whipping cream, fresh grade AA eggs, hard wheat unbleached flour, and our own recipe sourdough starter. Our batters and sauces are made fresh in each kitchen every day. Legendary chef James Beard was one of the Original Pancake House biggest fans!
There are three Original Pancake House locations in the Washington, DC Metropolitan area, each with free parking. We consider ourselves "The First Name in Pancakes" and hope you will too! Each location below offers free wi-fi and a senior menu. You can also get terrific sandwiches, burgers, salads and wraps from 11:00 a.m. to 3:00 p.m. on weekdays.
Signature Dishes
Our signature dishes include the Apple Pancake, a single large pancake smothered with sautéed apples and cinnamon sugar baked to perfection, creating a deliciously rich cinnamon sugar glaze.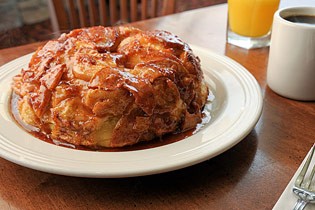 Another signature item is the Dutch Baby, an air filled delight oven baked to golden perfection and served with lemon, whipped butter and powdered sugar to create a mouthwatering blend.